ABOUT THE ENDURANCE
Endurance Riding is a test for Athletes to show the ability to safely manage the stamina and fitness of the horse and overcome the challenge against the track, the distance, the climate, the terrain and the clock.
The Sport of Endurance was established in the year 1992 under the directives of the father of the nation His Highness Sheikh Zayed bin Sultan Al Nahyan, the then President of the United Arab Emirates.
The first 2 Marathons organised by the Federation in the UAE were open for Horses and Camels and were held in January 1993 and March 1994.
On 7th December 1994 Al Asayl Endurance Ride was organised which was restricted to only Horses. Since then the sport of Endurance has gone a long way.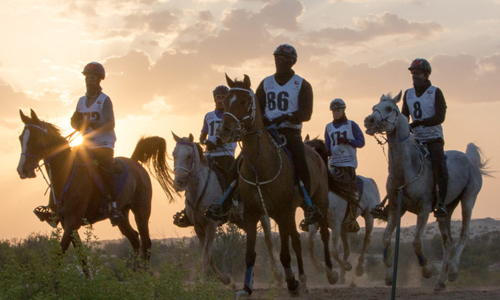 On 25th February 1998 the first CEI-A 160 km ride was organised by the Federation and was won by the current Vice President and the Prime Minister of the UAE His Highness Sheikh Mohd bin Rashid Al Maktoum riding Nelson I.
In December 1998 the UAE Equestrian & Racing Federation organised The World Endurance Championship with the record number of starters 162 which gained an entry into the Guinness Book of World Records as the organizer of the "Biggest Equestrian World Endurance Championship 1998".
International and National Endurance Events under the supervision of the UAE Equestrian & Racing Federation are presently organised by the under-mentioned Equestrian Clubs:
The Emirates International Endurance Village, Al Wathba
Dubai Equestrian Club at the Dubai International Endurance City, Dubai
Emirates Heritage Club at the Bouthib International Endurance Village, Al Khatem
UAE Equestrian and Racing Federation plays an active role in monitoring all International and National equestrian competitions that takes place in the UAE.