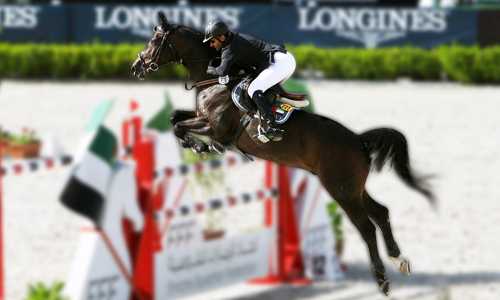 The show jumping season starts from October to April in which all age groups from 12 years of age compete with adults. During the season, the federation organizes 20 national and 12 international shows.
The value of this season is the CSIO5* - The President Cup of the United Arab Emirates (UAE), which is being qualified to the final of the Nations Cup. During this event best riders from Arab and European countries participate in it. At the end of the season the UAEERF organize the following championships:
UAE Championship for local riders
Longines final championship for all riders
UAE Young Horse Championship
Officials and achievements of the UAEERF:
More than 20 judges, course designers and stewards from all over the country conduct national and international shows.
Approximately 300 participants in all national shows
Approximately 400 participants in international shows from all over the world
All national and international shows are organized under the FEI Rules
The UAE team qualified for the Nations Cup final in Barcelona, Spain, in September 2017
The first team in a preparation camp in Europe are ready for the Nations Cup and the World Equestrian Championships to be held at Tryon America in 2018 and also in preparation for the Asian Games 2018 in which they won 3rd place in 2014.
Organizing training courses for the trainers, judges, stewards and course designers to develop the sport of show jumping
The above is a summary of some of the achievements of the UAE Equestrian and Racing Federation and its contribution to support and develop the sport of show jumping in particular and equestrian sports in general.